PDGM stands for Patient Driven Grouping Model and is a value based reimbursement model that uses information from OASIS and ICD-10 diagnosis codes to determine the reimbursement amount that each patient will require to provide a positive outcome. Therapy visits are no longer part of the reimbursement model, so having OASIS and ICD-10 diagnosis codes be correct is absolutely essential.
CMS uses the information from OASIS assessment from M1800 questions, M1033, and the referral source and the primary diagnosis code in M1021 to determine the reimbursement rate. From that information, PDGM puts each patient into 6 clinical groups, and one of those groups is broken into another 6 groups. One group is broken up into 6 sub groups. Those groups are Musculoskeletal Rehabilitation, Neuro/Stroke Rehabilitation, Wounds, Complex Nursing Interventions, Behavioral Health, and Medication Management, Teaching, and Assessment (broken into 6 groups). The information form the Home Health Resource Group (HHRG). There are 432 possible case mix adjustment payment groups.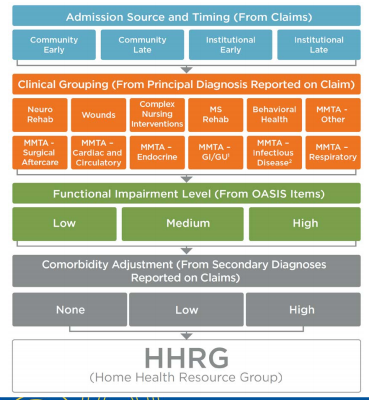 PDGM 2020 and ICD 10
CMS has always wanted HHA to document and code with the highest level of specificity. For a long time, HHAs would use symptom codes as primary diagnoses such as Muscle Weakness, Gait Abnormality, etc. as a primary diagnosis. However, these diagnosis codes did not show the underlying cause of the weakness. PDGM requires that HHA provide the underlying cause with the highest level of specificity possible. Documentation is key to success in PDGM.
List of diagnosis for PDGM
CMS has released several great resources for HHA to use. One of the biggest questions is finding a list of acceptable primary diagnosis codes for PDGM.
Here are some helpful links from CMS. You can download the PDGM grouper tool and look on the 3rd tab of the spreadsheet for the comprehensive list.
https://www.cms.gov/Medicare/Medicare-Fee-for-Service-Payment/HomeHealthPPS/HH-PDGM
CMS has given a summary of PDGM here.
https://www.cms.gov/Outreach-and-Education/Outreach/NPC/Downloads/2019-02-12-PDGM-Presentation.pdf
PDGM Grouper Tool
Home Care Answers has built a grouper tool that shows what the reimbursement rate for each patient will be, what clinical grouping, and the associated LUPA threshold for each patient. This is given for each patient in the report we send.