Home Health and Hospice agencies nationwide consider our OASIS and coding service to be a competitive advantage for their agency. Our clients come in a variety of sizes, ranging from small single-location agencies to large enterprise agencies with multiple branches in multiple states. Regardless of size, our clients have come to expect the same high level of accuracy, quality, compliance, and service with each file we review.
Home Care Answer clients…
Capture nearly $300 of additional Medicare revenue per OASIS episode
Rank in the top 10% nationally in patient outcomes
Significantly reduce claim denials
Reduce time to RAP
Receive a 1 business-day turnaround
Recent Trial Results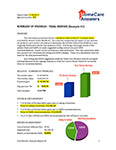 Take a look at recent trial results conducted for agencies like yours.
Recent Trial Result