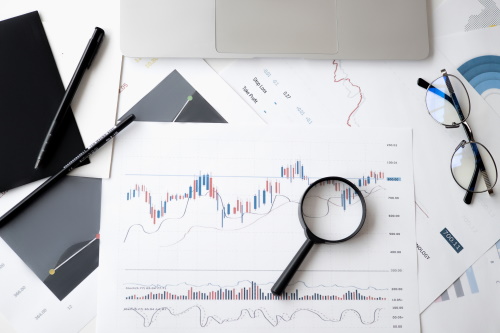 Home Health Revenue- Where does it come from?
There are over 11,000 home health agencies in the country. In order to open a Medicare Certified Home Health agency, you must first go through the accreditation process. Medicare will issue you a Medicare number called a CMS Certification Number. Medicare is the largest payer of home health care and largely determines the rules, rates of payment, and other regulations.
Home health agencies billing through Medicare must fill out an assessment called OASIS. OASIS stands for Outcome and Assessment Information Set. OASIS is really a large data information set that agencies submit so that CMS can track patient data and outcomes over time.
OASIS is used to determine reimbursement rates. CMS has had multiple methods of payment over the years from. Recently a new payment method was introduced- PDGM. PDGM stands for Patient Driven Grouping Model. PDGM is a value-based care payment approach that gives agencies a certain amount of money based on multiple factors such as the referral source, episode timing (early or late), the condition of the patient based on OASIS and diagnosis coding, and if there are comorbidities present that would increase the cost of care for the agency. If you want a refresher on PDGM, click Here
Home Health Reimbursement per Patient
Home Care Answers tracks a lot of data. Because we have built our own PDGM calculator, we have the ability to help agencies know up front what the expected Medicare reimbursement would be for each patient we review. We show the pre and post audit financials as that is very important to show the value we helped create, and it shows what the patient would have been worth if we did not help correct the OASIS to ensure accuracy and reimbursement maximization.
Since Jan 1, 2020, the average reimbursement per patient pre audit is $3,623.83 for each 60 day episode. After our auditing process, the average expected reimbursement per patient is $3,944.44. That means that Home Care Answers has helped our agency partners find an average of $320.61 per chart of additional, otherwise unclaimed revenue. This means that agencies are taking home more money and we can help quantify that gain. Since Jan 1, 2020, Home Care Answers has helped agencies uncover $8,068,243.01 of additional reimbursement that would have gone unclaimed. That is a 7.711% increase. Who wouldn't want to take another 8% home? Here is a picture showing the summary below.
Overview
What the picture shows below is that for the full 60 day episode before we looked at the chart, the PDGM reimbursement would be $3,741.79 or $2,416.58 for the first 30 days and $1,325.21 for the next 30 days. If we used the average of the first 3 agencies (Encompass has a very diversified business and home health margin is likely much lower than illustrated but the whole company had that profit margin), we can determine how much money an average agency may take home. The average gross margin is 36.5%. So for the image above, before Home Care Answers audited the OASIS and coding, the agency could expect to receive $3,741.79. Gross margin is the money left after certain expenses are taken out. The average gross margin percent is 36.5%- meaning the agency keeps 36.5% of the total reimbursement. 36.5% of $4,759.05 is $1,365.75. These expenses would be the actual cost of care like nursing visits, physical therapy, etc. There are a few more expenses that must be taken out also like rent, mortgage or business debt as a percent, utilities as a percent of total reimbursement, taxes, etc. The net or operating margin is what the agency gets to take home or put in their pocket as actual profit. The average operating margin percent is 11.36% So in the example above, 11.36% of $3,741.79 is $425.07 is what the agency would put in the profit after all expenses are paid and if the patient stays on service through the 2 30 day periods. But wait! There's more! If you notice, after Home Care Answers looked at the OASIS and coding, we were able to help find an additional $548.65 in additional reimbursement provided the patient stays on service. If you were to do the margin calculations for the new expected reimbursement of $4,290.44, the gross margin $ or 36.5% of that is $1,566.01. That's an additional $200.26 of profit! The operating profit would be $487.39. That's $62.33 more in your pocket to keep.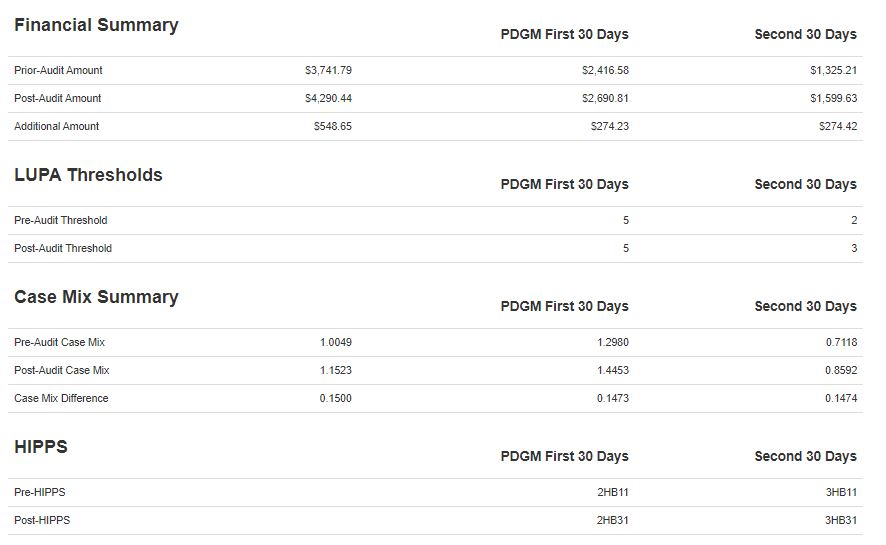 Here is what the math looks like:
| | | | |
| --- | --- | --- | --- |
| | | Average Gross Profit | Average Net Profit |
| Financial Summary | | 36.50% | 11.36% |
| Prior-Audit Amount | $3,741.79 | $1,365.75 | $425.07 |
| Post-Audit Amount | $4,290.44 | $1,566.01 | $487.39 |
| Additional Amount | $548.65 | $200.26 | $62.33 |
Home Care Answers can help and ensure that agencies maximize reimbursement by ensuring OASIS accuracy. We would love to help. We offer a complimentary 10 chart review to see if there are ways we can help and what reimbursement you may be unknowingly leaving on the table!